GGP Golf Academy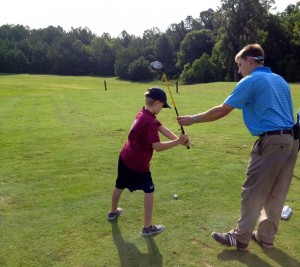 Gallea Golf Properties Golf Academy is conveniently located at the entrance of the Savannah/Hilton Head International Airport at Crosswinds Golf Club, minutes from historic downtown Savannah. Our state of the art facility and teaching tools make for an unforgettable experience that will enrich your overall playing experience. Students from all ages are encouraged to participate in one of our many teaching sessions. Whether you prefer private instruction, group lessons, corporate team building seminars, or a more structured camp or clinic, our PGA teaching professionals will ensure a successful incorporation of current golf techniques that will be tailored to your individual golfing style.
Teaching Professionals
James Walden
Director of Golf
James.Walden@galleagolfproperties.com "I think the most important part of what anyone does in the game of golf is to have fun. I also believe that everyone has the ability to improve their game with a combination of lessons and practice. If a person is willing to put in the time to learn and practice all areas of the game there is no reason why they should not improve their game. I believe that all good golf starts with four main fundamentals: grip, stance, posture and alignment. Everyone swings the golf club differently and that is how I teach". ~ James
Trey Lamberth
1st Assistant Golf Professional
Trey.Lamberth@galleagolfproperties.com Trey joined the Crosswinds staff in 2011. He is currently pursuing his PGA class A certification to become a teaching professional. Trey is a passionate teacher who immediately connects with his client's needs and learning styles. He heads up the women's golf clinic and assists with Crosswinds summer junior camps.
Lesson Information and Pricing Please call (912) 966-1909